Echo Media is a Michigan-based full-service mar­ket­ing & brand­ing agency that exists to pro­vide creativity-based and strategy-centered mar­ket­ing and com­mu­ni­ca­tions solu­tions to nonprofits, higher ed institutions, municipalities and mission-driven businesses who have a pas­sion to change the world for good.
We are here to assist our client partners in a variety of marketing related services, whether with cost-effective mar­ket­ing and brand­ing strat­egy ses­sions, mar­ket­ing strat­egy devel­op­ment, updat­ing print col­lat­eral, dig­i­tal and social media strat­egy and man­age­ment, out­door adver­tis­ing, guerilla mar­ket­ing tac­tics, cus­tom TV spots and/or other growth-related solu­tions. Unlike other agen­cies, we pro­vide unpar­al­leled assis­tance at every stage of a project includ­ing com­pre­hen­sive strat­egy devel­op­ment, cre­ative imple­men­ta­tion and results-based man­age­ment. We get a rise out of see­ing our clients expe­ri­ence growth and success. We help make your story resonate.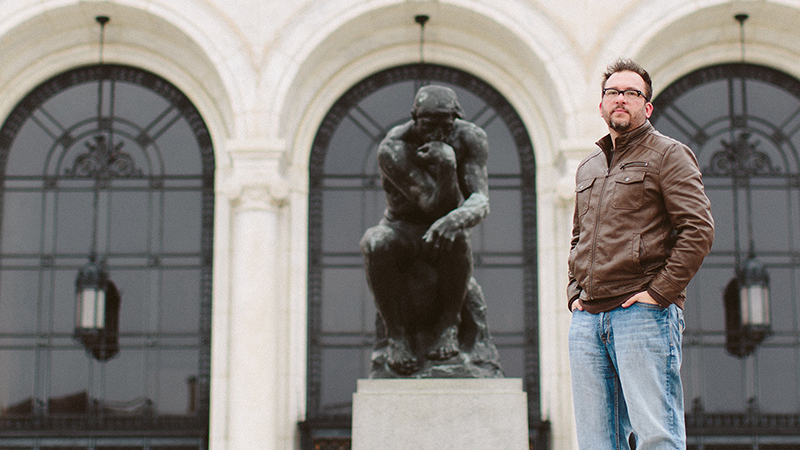 Scott Bettinger – Founder
Scott Bettinger is the CEO and Founder of Echo Media and acts primarily as lead strategist for the agency. Scott has over 20 years experience helping organizations grow and is passionate about helping mission-focused organizations. He enjoys brainstorming marketing ideas and initiatives with the Echo creative team and clients then turn them into transformative work. Hot dogs are sort of a passion of his as well – he's kind of a connoisseur when it comes to the frankfurter.
Our Team
Individually, these creatives are all rock stars! As a team, we're legendary. We've assembled what we believe to be some of the brightest and most creative minds that all carry the same purpose, to make your story resonate.
Our Process
Our unique business model allows our clients to have the look and feel of an in-house marketing department but is supported by a wide range of marketing professionals to help with all communication needs – from strategy & campaign development to day-to-day marketing activities – typically at the cost of one staff member.
Develop
Devel­op­ing a mar­ket­ing and com­mu­ni­ca­tions strat­egy is the first step to achiev­ing max­i­mum growth for your orga­ni­za­tion. At Echo Media, we help orga­ni­za­tions iden­tify exist­ing and new ways to reach their desired tar­get audiences.
Implement
What good is the strat­egy and plan if it doesn't get imple­mented? We've part­nered with orga­ni­za­tions of all sizes and styles to pro­duce cre­ative and engag­ing mar­ket­ing campaigns that best reflect each brand.
Manage
As part of a suc­cess­ful com­mu­ni­ca­tions strat­egy, orga­ni­za­tions must set in place met­rics and goals that keep all teams account­able to the results. Con­stant analy­sis and adjust­ment is nec­es­sary to achieve max­i­mum growth.